This directory aims to provide activists with an almost unknown facet of the animal exploitation machine: The thousands of farms across the country that breed and imprison wild animals. A sampling of the type of operations listed here: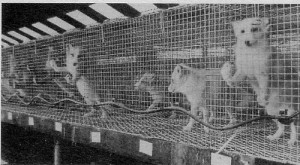 Game breeders
Canned hunts
Wild animals used for their flesh (i.e. deer held for "venison")
Urine collection / trapping lure operations
Penning operations (animals used to train hunting dogs)
Animal "exhibitors" (such as roadside zoos)
…..and many, many more.
Disclaimer
In most instances, the exact purpose these operations imprisoning wildlife is not known. Before campaigning against any of them, it is important to do your homework. Some of these may be facilities which are helping animals. For example, wildlife rehabilitators and sanctuaries can often be required to have the same licenses as fur farms.
Where did this information come from?
Most of the addresses here were obtained from public records. We are including all the data provided to us, however most listings will require research to determine the necessary details of the operation (such as the purpose for which they breed or hold animals), and in some instances the correct location (some times only a business address or PO Box is listed).
Wildlife farm directory: Choose a state to view all known captive wildlife operations